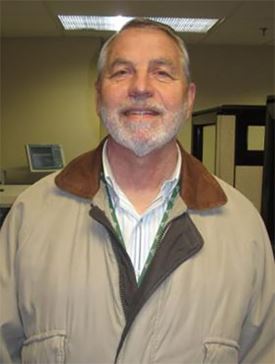 Like many other patients dealing with hearing loss, Fred Stevens was hesitant to accept the fact that his hearing was worsening. Although his wife had recommended he make an appointment for a hearing test, he couldn't bring himself to pick up the phone.
"I had been thinking about it, but I was struggling to accept that reality," he explains.
It wasn't until Stevens, a group therapy counselor, considered the effect hearing loss might have on his work that he thought it might be time to give it a try.
"I was talking to a co-worker who had recently seen a doctor for hearing problems, and it was just perfect timing," recalls Stevens. "It helped me crack through the denial I had been feeling to hear it from someone else. I was more willing to take that step."
Per his co-worker's recommendation, Stevens made an appointment with the Riddle Hospital Audiology and Hearing Aid Center for a hearing test. Upon seeing his results, which demonstrated hearing loss in both his left and right ears, he was surprised to find how much his hearing had suffered.
"I had lost a little more hearing than I realized. That really hit home for me," says Stevens.
From there, Stevens met with Catherine Marino, AuD, Doctor of Audiology at Riddle Hospital, who helped him choose hearing aids and set follow-up appointments to adjust the amplification and settings to match his needs.
For Stevens, his appointment with Dr. Marino was eye-opening.
"I learned so much. She [Dr. Marino] explained everything and it was very clear to me what it was she was saying. She walked me through the whole process and was so thorough, clear, and had such a nice manner about her," he says.
And his concerns about having hearing aids? Gone.
"The more I've had them, the happier I am to have gotten them. People will be talking to me and don't even realize that I have them in. It's amazing the technology that's available now."
For Dr. Marino, this isn't the first time she's seen patients hesitant to come for a visit.
"Many people are fearful about getting hearing help because of negative stories they have heard. They do not know who to trust," she explains. "Getting hearing help is not a one-time event, it's an ongoing process. We focus on the patient's individual listening needs and select from the latest digital hearing technologies to maximize hearing ability in all the varying listening situations a person finds themselves in. Our patients come to appreciate how this process works, and that eliminates the fear factor."
"I'm glad I went to Riddle. I can't say enough about Dr. Marino's skills, and the entire staff is wonderful. I'm just so glad finally decided to take that step," says Stevens.