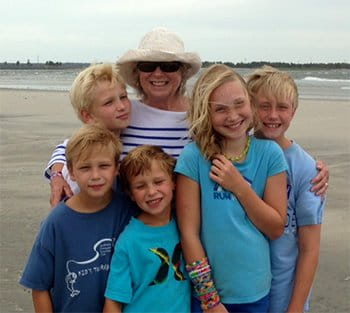 It had been eight years since Marilyn Roland had her first heart attack. She was keeping up with bi-annual appointments, hadn't had any severe health problems, and had recently gotten a clean bill of health from her doctor.
So when she was up until 3:00 in the morning with an upset stomach only days after her doctor's appointment, she assumed it was nothing serious. She had gone to lunch earlier that day with friends, and figured it must be food poisoning. Until she noticed a familiar symptom.
"Across my chest, I just started feeling this heaviness. It wasn't pain, just heaviness," she recalls. "I remembered that feeling from my first heart attack, and I knew that this wasn't just food poisoning."
Roland woke her husband, and the two headed to the emergency department at Paoli Hospital. Though Roland had been diagnosed with coronary artery disease after her first heart attack, she had been healthy ever since. But only minutes after her arrival at the hospital, her heart stopped. Cardiologist Richard Tucci, MD, acted quickly. In less than 90 minutes, Roland had a stent placed in her left artery and was recovering in her hospital room.
"Dr. Tucci and everyone at Paoli jumped immediately into action when we walked into the emergency room. When I came to a few hours later, I couldn't believe how quickly it had all happened. During my first heart attack, it took days for a stent to be put in. At Paoli, it took less than two hours," she says.
Although Roland was fortunate to be cared for so quickly, she admits that her decision to drive to the emergency room instead of calling 911 was a mistake. A longtime Hershey's Mill and Malvern resident, Roland wasn't far from the hospital but knew she was lucky that her heart didn't stop in the minutes before she arrived. Many women aren't as fortunate.
"There are men and women out there who wait hours to seek treatment for heart attack symptoms," explains Duane Stanton, manager of Paoli Hospital's Cardiac Catheterization lab. "The average amount of time between when women notice their symptoms and when they seek treatment is two hours, but too much can happen in that time. Not seeking treatment immediately can be fatal."
Roland wants her story to be an example to other women.
"Know your body and if you've never felt that way before, use that as a gauge. I've been nauseous before, but this was different. I've been tired before, but this was a different kind of tired. You have to trust yourself," she urges. "When it's something different, respond. Call 911. Don't make the same mistake I made."