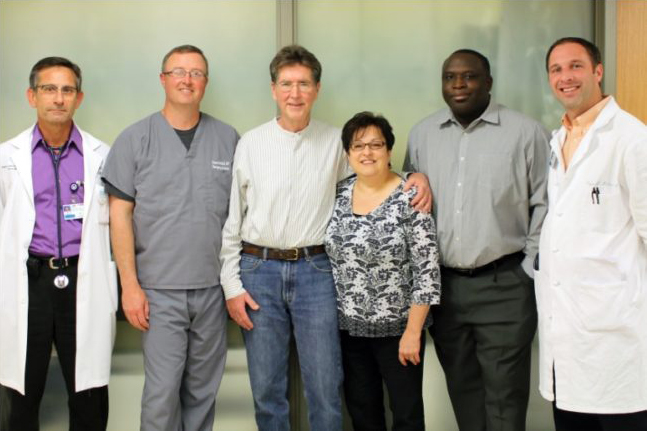 Spring had just begun, and Joe Hagan was looking forward to a beautiful bike ride in late March on the Chester County trail after work with a friend. His goal starting out was to reach the end of the trail. He never guessed his destination would be the Paoli Hospital emergency department.
"One moment, I was riding my bike with my friend Marty," recalls Hagan. "Next thing you know, I've been in a bed in Paoli Hospital for three weeks!"
About an hour into the bike ride on that March evening, Hagan suffered a massive heart attack. Within a split second he went from cycling to lying on his back, unresponsive. Thankfully his riding partner knew CPR and they were close to the trail's end. Police were able to reach Hagan quickly, continue administering CPR and stabilize him as they waited for the ambulance.
When paramedics arrived, they put Hagan on the LUCAS Chest Compression System, which is able to administer at least 100 compressions per minute, keeping his heart beating in the ambulance as they rushed Hagan to Paoli Hospital, part of Main Line Health.
When they arrived at Paoli, Hagan's heart was still unable to beat on its own. Emergency Medicine physician Duane Godshall, MD, was the first to attend to Hagan, immediately resuming chest compressions where the first responders left off.
"Mr. Hagan had been without a heartbeat for well over 10 minutes," says Dr. Godshall. "While typically such a long period of cardiac arrest can be detrimental, Mr. Hagan showed a lot of strength to pull through."
Hagan required extensive CPR in the emergency department. His heart was unable to beat on its own, went into ventricular fibrillation and cardiac arrest. Despite Hagan's condition, Dr. Godshall, Dr. Qaiss Mohammed and the Paoli emergency department nursing staff continued to administer CPR until he finally sustained a regular heart rhythm.
The team deliberately reduced Hagan's core body temperature to protect his brain following the long period of insufficient blood flow, a technique referred to as Therapeutic Hypothermia. This hypothermia protocol benefits patients who don't immediately regain consciousness after cardiac arrest.
"We had to drop Mr. Hagan's body temperature quickly," explains Dr. Mohammed. "Hypothermia was Mr. Hagan's best chance for recovery with the least amount of brain damage."
During the hypothermia protocol, Hagan was moved to the cardiac catheterization lab, where Dr. Richard Tucci and the cath lab team, part of the Lankenau Heart Institute team at Paoli Hospital, performed an angioplasty, ballooning open Hagan's closed artery so two stents could be inserted, allowing blood to flow freely, reducing the chance of another heart attack.
"The fact that Mr. Hagan is healthy again and doing well really speaks to the way we came together – as a team – to treat him here at Paoli," says Dr. Tucci. "The ability to offer advanced, lifesaving heart care, in a community setting, is a tremendous benefit to patients like Mr. Hagan and the thousands of other patients who come through our doors every year."
Hagan was then transferred to the Intensive Care Unit (ICU) where a coma was induced for 36 hours. His body was slowly warmed from its hypothermic state, and Hagan was brought out of a coma and placed on a ventilator for 12 days, progressively regaining physical mobility.
"During his time in the ICU, the care team worked closely with Mr. Hagan to nurture back his strength and motor skills," says Dr. Damian Cornacchia, internal medicine physician. "Mr. Hagan's strength and willingness to fight was encouraging to us all."
As Hagan steadily showed signs of improvement, his care team began to reduce his medication in preparation to remove him from his ventilator. Once Hagan was able to breathe on his own, the ventilator was removed, and he regained consciousness. Once he learned what had happened to him, Hagan was shocked.
"I was in disbelief that I had suffered a major heart attack and was unconscious for a week," says Hagan.
Thanks to the quick action of the Paoli Hospital team, Hagan only experiences minor difficulties with his speech and short term memory as a result of his cardiac arrest. Hagan has completed his physical therapy and is currently undergoing cardiac rehab.
Hagan and his wife, Theresa, recently felt compelled to return to Paoli Hospital to thank the team that saved his life. In the Paoli Hospital Emergency Department, the Hagans reunited with Drs. Cornacchia, Godshall, Mohammed and Ryan Reber, DO, critical care specialist, to express their gratitude for saving Joe's life and supporting their family throughout the ordeal.
Hagan expressed his gratitude to the entire care team for their exceptional support. Reconnecting over the details of the case, Hagan was all smiles when he told the team that he is slowly, but surely, returning to the activities he enjoys so much.
Hagan is now back on his bike, enjoying 20-mile rides the way he used to before his heart attack.
"I owe my life to this group," says Hagan. "I honestly can't thank them enough."
With four hospitals and many community cardiology sites throughout the region, Lankenau Heart Institute's team of cardiologists, cardiovascular surgeons and sub-specialists seamlessly integrate prevention, diagnostics, treatment, rehabilitation and disease management into one uncompromising service. Visit our website to learn more about the Lankenau Heart Institute.